2018 European Tour – Voices of Aotearoa
New Zealand's award winning chamber choir on tour in Europe 2018
Follow the Star
Join New Zealand's award-winning chamber choir for a mid-winter Yulefest.
Think cosy ambience under high-vaulted ceilings, candlelight and divine music.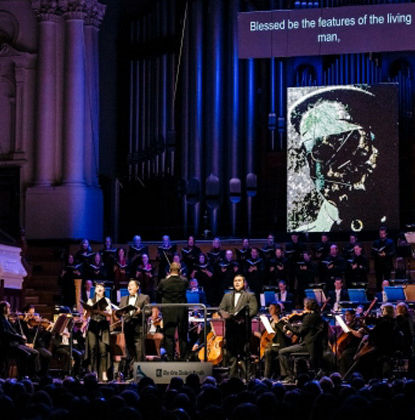 Classical Review: A new ANZAC symphonic work revealing the tragedy of the survivors
Last week the Auckland Philharmonia premiered FACE, a new work commissioned from Ross Harris. The piece was inspired by the story of Sir Harold Gillies, the New Zealander who became the father of plastic surgery and who, along with several other New Zealand surgeons treated the disfiguring facial injuries sustained by soldiers during World War I.
Read more..
DISCOVER MORE: Voices New Zealand Chamber Choir Twentieth Anniversary Year 2018
Our Artistic Director reflects on the 20th anniversary of VOICES in context of the upcoming concert with The King's Singers. The photograph shows Karen and VOICES at a 2002 concert in Christchurch.
It is a wonderful achievement to be now in our twentieth year. I'm not sure any of us, whose bright idea it was in 1998 to form a national, professional-level chamber choir, thought that we would be celebrating our twentieth year in such style: performing with The King's Singers, recording and performing with the Auckland Philharmonia and the New Zealand Symphony Orchestra and touring internationally to England, Germany, France and Spain. Well, we are!
As for Voices New Zealand Chamber Choir, the inspiration initially came from singers who had sung in national youth choirs and who wanted to continue the opportunity at a national, professional level.
Read more...