NEWS
CANZ Artistic Director Dr Karen Grylls Honoured
Companion of the New Zealand Order of Merit for Services to Choral Music
Tuesday 6 June 2023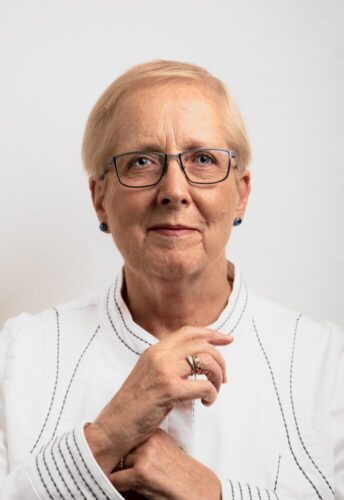 We are thrilled to announce that Dr Karen Grylls, the esteemed Artistic Director of Choirs Aotearoa New Zealand, has been recognised in the King's Birthday Honours as a Companion of the New Zealand Order of Merit (CNZM) for her exceptional contributions to the world of choral music.
Chair of the Choirs Aotearoa NZ Trust, Amanda Barclay, expressed the organisation's gratitude, saying, "It's been our privilege to benefit from Dr Karen Grylls' expertise through her musical direction of Voices New Zealand and the NZ Youth Choir, and as Artistic Director of all four of our national choirs. Karen is a tireless promoter of choral music and brings a great deal of heart to her unrelenting pursuit of choral excellence. On behalf of the Trust Board, I congratulate Karen on this well-deserved honour."
Reflecting on this significant recognition, Dr Karen Grylls shared her deep appreciation for the opportunity to contribute to choral music in New Zealand, saying, "I am deeply honoured to receive the CNZM in the King's Birthday and Coronation Birthday Honours, 2023. I consider myself very privileged to have worked and performed with so many choral musicians, and to be a voice for choral music in Aotearoa.
In receiving this award I acknowledge these many musicians and colleagues who have supported me along the way: composers, singers, stage directors, international and national conductors and pedagogues and the many managers who have made it happen. This award honours them also."
Dr Karen Grylls' passion for singing and its transformative power has been a driving force throughout her career. "The opportunity to have worked with and trained ensemble singers and conductors over several decades as part of my long-standing work with Choirs Aotearoa NZ has given me the greatest opportunities which I acknowledge here with heartfelt thanks." She expressed her hope that young musicians feel empowered to lead and become global musical citizens themselves.
As Dr Grylls looks forward to the immediate future, she eagerly anticipates the upcoming tour with Voices New Zealand and Chamber Music New Zealand. The tour, titled 'Reimagining Mozart,' features a new full-length work by composer Robert Wīremu for choir and instruments promising to be a captivating exploration of Mozart's timeless Requiem from a fresh perspective.
We extend our warmest congratulations to Dr Karen Grylls on this well-deserved honour. Her unwavering commitment, extraordinary talent, and visionary leadership have elevated choral music in New Zealand and beyond, leaving an indelible impact on the cultural landscape.
For media inquiries, please contact:
Arne Herrmann
Chief Executive
Choirs Aotearoa NZ
027 276 1751
About Dr Karen Grylls:
Dr Karen Grylls is an acclaimed conductor and the Artistic Director of Choirs Aotearoa New Zealand. She established the renowned Voices New Zealand Chamber Choir in 1989, which she continues to lead. Dr Grylls' pioneering efforts have made an indelible mark on the international choral music landscape, and her visionary leadership has shaped the future of choral excellence in New Zealand.