REVIEW
Classical review: Enigma concert fills the house
Reviewer: William Dart, NZ Herald
Monday 23 April 2018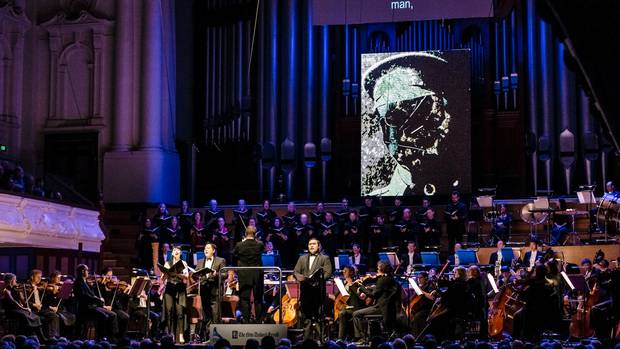 The APO and VOICES NZ perform NZ composer Ross Harris's new work, Face.
"One sensed justifiable pride when Auckland Philharmonia Orchestra CEO Barbara Glaser announced the Enigma concert had drawn a full house and, best of all, the programme included a major commission, shared with the BBC, " writes William Dart.
Ross Harris' Face pays tribute to the pioneering plastic surgery of Harold Gillies during World War I. Vincent O'Sullivan's verses take care to convey history through the lives of its participants, and it was delivered under a subtly evolving Barry Cleavin image.
Face is a score of considerable solemnity, laid out between sonorous blessings from Voices New Zealand Chamber Choir. The restrained orchestral palette early on soon graduates to wild, scatter-gun outbursts, conveying the horrors of war, with numerous sinister marches, now familiar as a component of this composer's musical armament.
The narrative for three soloists is relatively calm alongside this instrumental fury.
Henry Choo was impressive as the impassioned young soldier, not quite matched by Allison Bell as his young woman. While Harris surrounds the Australian soprano with a bower of beautiful effects, her raw vibrato in the upper register was disturbing. Alongside them, Joel Amosa exerted his usual strong presence as a voice of military and medical authority.
Face is the Kiwi centrepiece of a staunchly British evening.
First up, Vaughan Williams' The Lark Ascending featured a young Yanghe Yu as a thoughtful, sweet-toned soloist, only occasionally wanting in rhapsodic fervour.
Dutch conductor Antony Hermus, a model maestro in the first half, had the orchestra to himself for Elgar's Enigma Variations after interval, giving an extraordinarily vivid reading, full of dash and intricate detail.
This work changed the landscape of English music in 1899 and Hermus seemed to underline the fact that, back then, it had burst out, unexpectedly, from a compower known for pretty salon pieces and sturdy, worthy monoliths. In this performance, there were ironic hints and echoes of both set around a spellbinding Nimrod variation.
What: Auckland Philharmonia Orchestra & VOICES NZ Chamber Choir
Where: Auckland Town Hall
When: Thursday 19 April 2018
Reviewer: William Dart
Source: http://www.nzherald.co.nz/entertainment/news/article.cfm?c_id=1501119&objectid=12037580