REVIEW
Classical review: Magic Midwinter Yulefest With Voices New Zealand
Review of 'Follow the Star' in Auckland, by Clare Martin from Radio13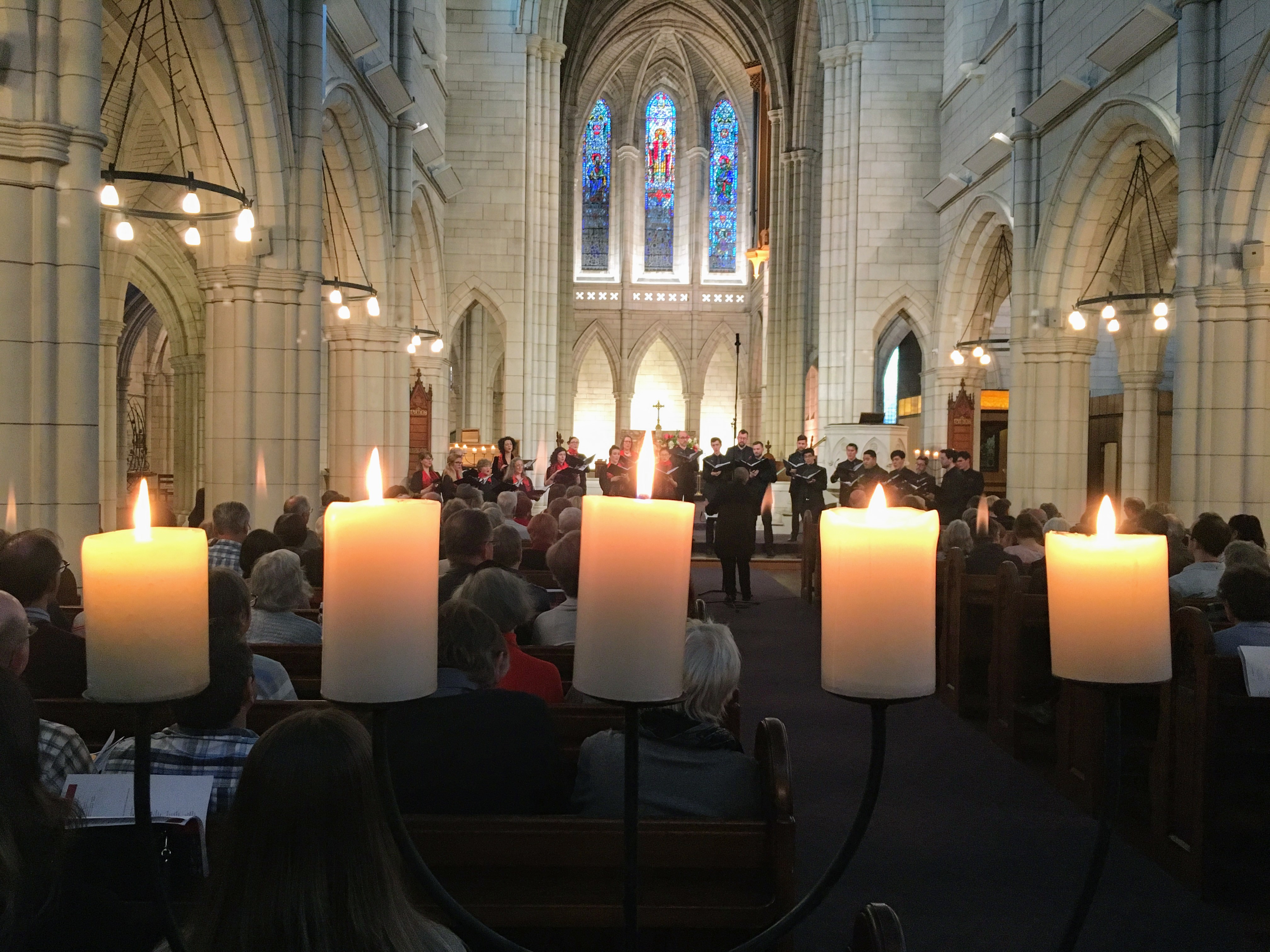 There was magic spun from Voices New Zealand Chamber Choir led by distinguished conductor Karen Grylls in their concert at St Matthew-in-the-City in Auckland, NZ last night. A midwinter Yulefest celebrating Christmas with music from both northern and southern hemispheres including a significant number of NZ composers. The theme for the selection was Follow the Star, the North Star leading the Wise Men to the nativity and the stars of our very own star cluster Matariki.
Creating meaningful links between the sung pieces was poetry by UK poet Godfrey Rust presented by Catrin Johnsson:
"The universe from which Love sprang
started with a Tiny Bang
when Love, to everyone's surprise,
came dancing out of paradise…" 'Dancing', Godfrey Rust
Johnsson lifted the words off the page with such profound and sincere delivery, it added a genuine depth to the occasion.
Centred around Christmas and the spirit of Christianity, the choir began the programme with Bob Chilcott's contemporary "Nova Nova" with joyous call and response between sections. This led to the multitalented Pasifika composer Igelese Ete and his "Nova Nova" a gem that received it's premiere last night. Here Voices NZ gave us warmth and beautiful intelligent singing, cupped handclaps added a Samoan touch.
Chris Artley's premiere of his take on "Deck the Halls" airlifted the tone into fun jazz sounds. Here the especially shiny sopranos led the melody with real confidence and beauty. Along with the delicious endpiece of Peter Gritton's "Follow that Star", the Artley was a welcome lift of style and rhythm.
Voices NZ has a beautiful choral sound born of schooled singers with top technical ability. Grylls draws out a disciplined and exacting sound which gives this choir a focussed purity which is hard to beat. The sopranos particularly shone last night, but the whole ensemble is right on Gryll's fingertips. It was challenging choral music – Daniel Elder's "O Magnum Mysterium" of 2013 undulated on waves of hummed notes and created pure magic. There were angelic sounds from the women and glorious tone from the men. Good solo spots were also on offer – beautiful soprano and tenor solos formed a youthful frame for the Stephanie Martin piece "An Earthly Tree".
How fortunate is NZ to have so many notable composers and for these premiers to be performed by such a fine choir. "Quittez Pasteur" by David Hamilton, featured Canteloube-like folk melodies and a charming roundelay finish. An alto/soprano duet vignette lit up Anthony Ritchie's "Es ist ein Ros". Eve de Castro-Robinson's "Star of Wonder" brought an inventive new take on traditional Christmas carol texts. Even if the choir wasn't altogether comfortable with the tricky accented rhythms and the bodhrán drum accompaniment was slightly tentative.
But the stand-out performance of the evening was Latvian composer Ēriks Ešenvalds' "Stars" of 2011. Positioned around the audience, the singers fanned out surrounding us with their resonance. Added to this the composition calls for sustained notes from Tibetan singing bowls and pitched wine glasses. It was spine-tingling and profoundly moving to be immersed in these voices as their sound rose high into the vaulted ceiling of St Matthew-in-the-City.
Daniel Elder's "Star Sonnet" suffered unfairly from being the aftermath of such glory. Ideally, a short sharp little firecracker would have been better programming. Similarly for the John Taverner, "Sleep" was just a little too sleepy, and although beautiful by nature, the audience could have used cold water rather than a blanket.
And perhaps there could be more curiosity from a choir specialising in the NZ sound to root out an Aotearoa-like soundscape, especially around the time of Matariki. Robert Wiremu's "Extra Rations of Wine", a story of the early Europeans' experience of Aotearoa at Christmas time, reverted to a European style Hodie Christus natus est but there could have been a moment spent in the lush forests on the shores of Abel Tasman's anchorage. Even so, it was nice storytelling and a welcome change of colour.
Screenshot 2019 07 22 at 4.20.44 PM
But one thing is for sure, I will certainly return again. Voices New Zealand takes the audience on such an assured and crystalline journey, every concert will offer great musical riches to those fortunate enough to be present.