REVIEW
Dame Kiri Te Kanawa (soprano) with Voices New Zealand Chamber Choir directed by Karen Grylls and Terence Dennis (piano)
Reviewed by John Button, Dominion Post
Sunday 13 March 2016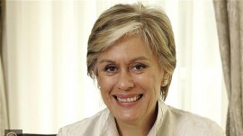 Dame Kiri Te Kanawa performs with Voices New Zealand Chamber Choir at the Michael Fowler Centre, March 13 2016, reviewed by John Button of the Dominion Post.
Michael Fowler Centre, March 13.
Dame Kiri is now over 70 years of age, and there have been 'farewell' concerts all over the world for some years now, but this tour through her home country must be nearly the last. Not that she looks anywhere near the end of anything and, with a carefully constructed program, she sounded just fine. Not that she now sings the wide-ranging coloratura of yesteryear, and she marshalls her resources to suit the state of the voice, but what she did sing here brought back memory after memory of the Kiri Te Kanawa of her prime. With the Voices New Zealand Chamber Choir breaking up the concert Dame Kiri showed no evidence of fatigue at concert's end.
And the programme was not especially downmarket, as some might have expected, with a number of items that would have been new to the adoring audience. In 2014 the American composer Jake Heggie composed a song cycle for her to poems by Emily Dickinson, and 'Newer every Day', a cycle of five songs suited Dame Kiri down to the ground. And they are lovely songs, here done superbly aided by the stylish piano accompaniments of Terence Dennis (he played wonderfully all evening). The monologue from Jack Heggie's musical setting of the final monologue from Terence McNally's play 'Masterclass' was almost as good.
With the choir Dame Kiri sang Mozart's Laudate Dominum' – lacking a little in vocal power but fine nonetheless – and Schubert's 'Standchen' in an arrangement for soprano and female voices, and although I much prefer the version for mezzo and male voices, this was well done. So, too, was the 'Nun's Chorus, from 'Casanova' and, of course, 'Hine E Hine' which was given again as an encore along with 'O My Beloved, Daddy' from 'Gianni Schicchi'.
The concert also featured the choir on its own with brief works by Grylls/Wiremu, Hamilton, Faure and Brahms. Lovely singing but Dame Kiri was the reason the huge, enthusiastic audience was in the house.