REVIEW
Voice of the Soul
Monday 9 February 2015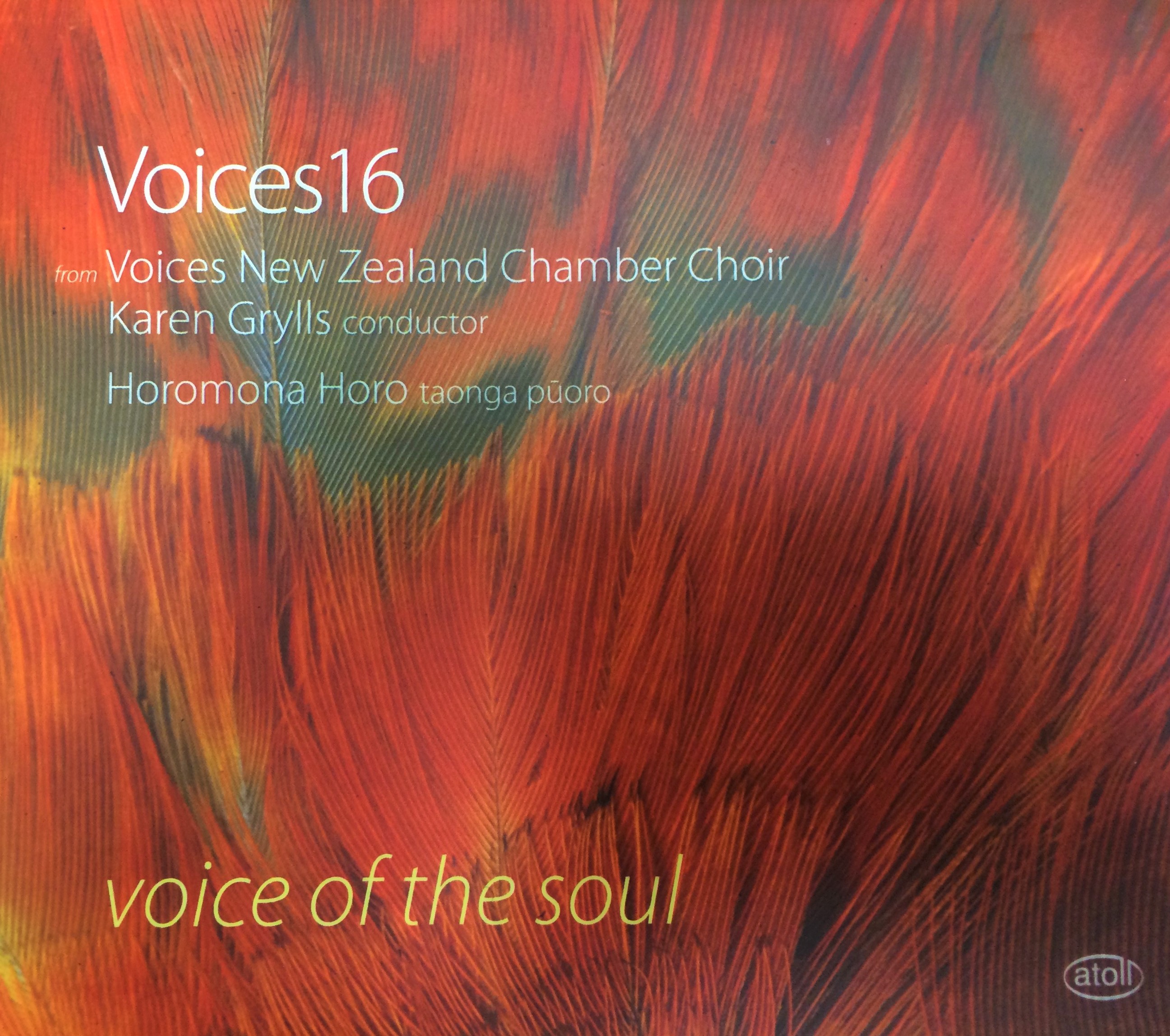 "..a fascinating and lovingly prepared programme which made a strong and delightful impression.."
Hildegard von BINGEN (1098-1179)
O Viridissima Virga [4:12]
David CHILDS (b.1969)
Salve Regina [4:16]
Pukaea [0:40]
Morten LAURIDSEN (b.1943)
Six Fire Madrigals [20:15]
Purerehua [0:37]
Helen FISHER (b.1942)
Pounamu [8:20]
Poiawhiowhio, karanga manu
Christopher MARSHALL (b.1956)
Horizon 1 (Sea and Sky) [2:00]
Benjamin BRITTEN (1913-1975)
Five Flower Songs [11.30]
David HAMILTON (b.1955)
Karakia of the Stars [6:34]
Purerehua [1:05]
Pepe Becker (soprano), Amanda Barclay (soprano), Victoria Chammanee (soprano), Jeffrey Chang (tenor), Horomona Horo (taonga pūoro)
Voices 16 from New Zealand Chamber Choir/Karen Grylls
rec. 24-28 Jan. 2013, Kenneth Myer's Centre, Auckland University New Zealand.
ATOLL ACD 213 [61:00]
 
'Taonga pūoro' is a phrase describing traditional Māori musical instruments, played here by Horomona Horo on this unusual CD. The instruments alternate and sometimes combine with the singers, who are Voices 16, a detachment of the New Zealand Chamber Choir, under their conductor Karen Grylls. The instruments heard include the Hue, made from a gourd; the Kōauau, a flute made from bone; the Pūtōrino, a wooden trumpet; and the Pūtātara, a wind instrument made from the highly prized Titan shell – quite a rarity, I'm told.
The first thing we hear is the strange sound of the Pūtōrino, leading us straight into the first composed piece, Hildegard of Bingen's song 'O Viridissima Virga' ('Hail greenest branch'). This begins in the solo voice of Pepe Becker, and is then treated freely, with staggered entries cleverly creating an echo effect. Together with more sounds from the folk instruments, this creates a timeless impression, and leads us into the choir's programme in an intriguing way. In her — somewhat flowery — notes, the conductor Karen Grylls likens the disc to a gallery, with musical instead of visual exhibits.
Be that as it may, it is a beautiful sequence of numbers; David Childs' 'Salve Regina' which follows, gives us our first opportunity to hear this choir singing a 'conventional' piece, which they do with great accomplishment. Childs' treatment is, in its word-setting, highly reminiscent of Poulenc in, for example, the 'Litanies to the Black Virgin'.
I don't know how conscious was Childs' tribute to Poulenc; but Morten Lauridsen's 'Six Fire Madrigals' to Italian texts are explicitly inspired by the vocal works of Monteverdi. Those who know Lauridsen's sacred works, such as the famous 'O Magnum Mysterium' will be familiar with the technique used here. He takes a single chord – described by him as the 'Fire Chord' and heard at the very beginning – and explores it throughout the six compositions. The shifting harmonies often produce ear-bending effects such that I wondered if I was hearing microtones at some points – which is not to say that this choir sings out of tune. Indeed, their technical assurance is impressive, if unobtrusive. Sometimes though, both in the Lauridsen and later in the Britten 'Flower Songs', I wanted a greater sense of involvement, and a wider palette of vocal colours. In compensation, their ensemble, intonation, breath control and blend are exceptionally fine; they sing as one, a tribute to the clarity and musicianship of their conductor.
Two pieces in a more contemporary style follow; Pounamu by Helen Fisher, based on a Māori proverb, and the evocative 'Horizon (Sea and Sky)' by Christopher Marshall. Then comes a more established item of the choral repertoire, Britten's 'Flower Songs'. These are, as hinted above, lacking a little bit in character and projection. That said, their sensitive delivery of 'The Evening Primrose' is truly affecting, and the final song, 'Green Broom', if a little stolid at first, does rise to an appropriately unbuttoned conclusion.
For me, the most interesting musical experience was waiting for me on the wonderful final track, David Hamilton's 'Karakia of the Stars'. This is based on a short text – another Maōri one – which is a Springtime invocation to the stars. The voices are joined by traditional percussion instruments, high and low, and the voices cluster and improvise magically. The whole thing is hypnotically beautiful; there is a central section for male voices which the notes describe as a haka. — Perhaps the All Blacks will perform it at the Rugby World Cup this year? Vain hope, methinks.
There are so many wonderful young chamber choirs the world over now, many of them appearing on CD, so that it is very hard for any one of them to make an impact. However, this is a fascinating and lovingly prepared programme which made a strong and delightful impression on me.
Gwyn Parry-Jones