NEWS
VOICES NZ turns 20 and celebrates with The King's Singers
Monday 5 March 2018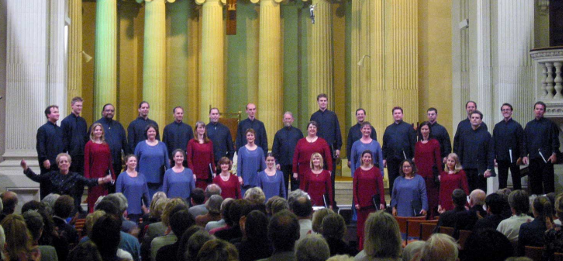 Our Artistic Director reflects on the 20th anniversary of VOICES in context of the upcoming concert with The King's Singers. The above photograph shows Karen and VOICES at a 2002 concert in Christchurch.
It is a wonderful achievement to be now in our twentieth year. I'm not sure any of us, whose bright idea it was in 1998 to form a national, professional-level chamber choir, thought that we would be celebrating our twentieth year in such style: performing with The King's Singers, recording and performing with the Auckland Philharmonia and the New Zealand Symphony Orchestra and touring internationally to England, Germany, France and Spain. Well, we are! And congratulations, King's Singers, on your fiftieth anniversary year and your outstanding performances around the world. We are very proud of our antipodean connections and look forward very much to singing together in this special year.
As for Voices New Zealand Chamber Choir, the inspiration initially came from singers who had sung in national youth choirs and who wanted to continue the opportunity at a national, professional level. I had already made some personal, professional decisions that would create the time necessary to work with such an ensemble. After directing the Auckland Dorian Choir for fifteen years, a change was necessary. Thanks to Jacqui Simpson and some enthusiastic singers, we launched Voices in March 1998 in time to debut at the New Zealand International Arts Festival. In quick succession, there was a June performance of Bach Johannes Passion in the Bach Festival with the New Zealand Chamber Orchestra, concerts in Spain and first prizes from the Tolosa Choral Competition in October.
Much of our performing has come as a result of collaborations with national and international organisations, festivals, orchestras and with inspiration and invitation from our musical colleagues. We treasure our relations with the New Zealand Festival and the Auckland Arts Festival (thank you, Carla van Zon). We've sung for Howard Shore, Jan Pascal Tortelier, James Macmillan, Jane Glover, Nicholas McGeegan, Simon Carrington, and Vladimir Ashkenazy, to name a few. Local collaborations have seen us performing with Dame Kiri Te Kanawa, Brian Law, Uwe Grodd, Marc Taddei and Tecwyn Evans.
Recording, too, has played a significant part of our profile. Highlights include premier recordings of Vanhal and Hummel recordings with the Aradia Ensemble for Naxos, the Tui award-winning disc Spirit of the Land, Voices of Aotearoa and most recently, Ross Harris's Requiem for the Fallen with the New Zealand String Quartet.
Those who sing in the choir are passionate about their art, they give of themselves in time and spirit, beyond all expectations. It is a privilege to work with these inspiring singers as we develop our own art and share musical skills with other singers in our communities and schools through workshops and joint performances. The Aorere College Choir Residency in 2007 was one of the most memorable.
Also memorable was the 2011 Music New Zealand Tour, Voices of Aotearoa, with taonga pūoro artist Horomona Horo. This tour gave us the opportunity for seminal performances in the development of the choir; who we are and why we sing. We proved to ourselves that we could convincingly sing Purcell and waiata in the same programme. And as the artistic director and conductor of this national choir, I have always valued and welcomed the opportunity to commission and perform works from our New Zealand composers. This was a very special programme, which also made its way to the World Symposium of Choral Music in Patagonia and Argentina, later the same year.
In our twentieth year, our collective aspiration remains: to sing at the highest level, to encourage our composers to write about things that matter, and to share the music and the singing, which has the power to change our lives for the better. See you at the Festival!
Karen Grylls ONZM
Check out our latest newsletter here