NEWS
On national tour: TAONGA MOANA
Taonga Moana is an exciting event for anybody who cares about our planet, loves exquisite music and appreciates human creativity – the explorers, the seafarers, the beach dwellers, the thinkers, the environmentalists.
Tuesday 1 October 2019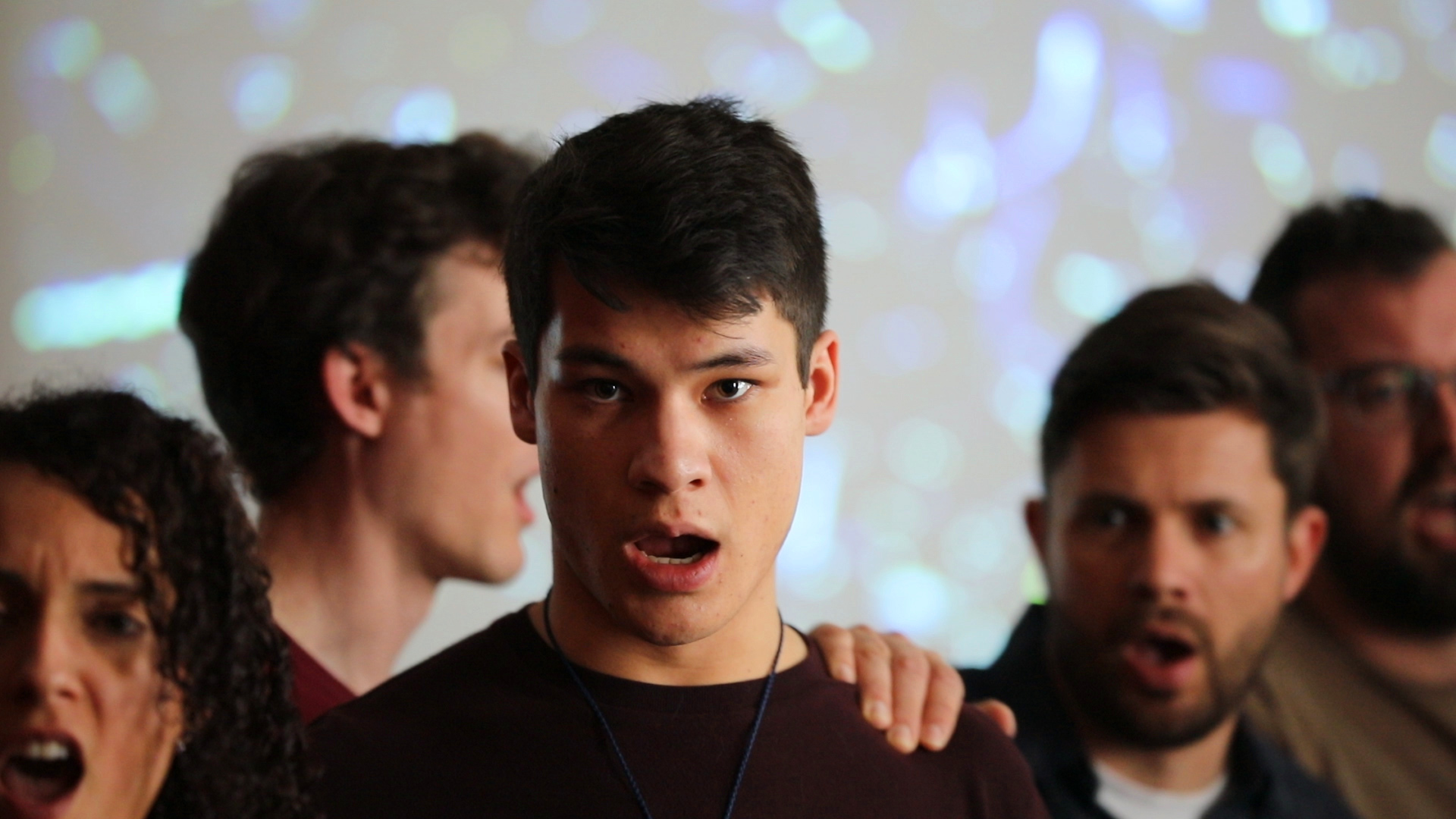 On a 9 city tour with Chamber Music New Zealand, New Zealand's premier national chamber choir performs a stunning musical reminder of the beauty and importance of our oceans.
New Zealand's premier national chamber choir, Voices New Zealand, performs a stunning musical reminder of the beauty and importance of our oceans. Taonga Moana is born from the desire to talk and sing about topics that are acutely relevant to people at present. The current state of our oceans is a highly-charged topic that presents an opportunity to connect concerned people with the choral art-form.
Choral singing for many is seen as a static event that takes place in churches and sacred spaces, but Taonga Moana aims to blast that perception out of the water with an immersive theatrical experience – a musical story fusing atmospheric visuals from the oceans with live sounds from the ensemble to bring audiences a mesmerizing, exhilarating and thought-provoking experience.
One of the driving forces behind the project is internationally-renowned New Zealand choral conductor Karen Grylls. "One thing we learned early on in the project was the oceans, and their issues, are all connected." She met with ocean experts and campaigners to really understand the central issues that our oceans face. Issues such as temperature change, the impact on global food chains, the reduction in biodiversity and how pollution and plastics wash into rivers, entering oceans and ultimately affecting what ends up on our plates. "I developed a real sense of what happens in the Atlantic is connected to what happens in the Southern Ocean, which impacts on the Indian Ocean and the Pacific. This meant that our music had to show the interconnection of all oceans."
Grylls set out to source a global mix of musical creatives to tell the story and collaborate with prominent New Zealand theatre and opera director Sara Brodie . The result sees works from composers in Latvia, Indonesia, Canada, Finland and the U.S. come together in a programme that highlights that connectivity of our waters. The resulting story follows the flight of the kuaka – the godwits – and their hero, the ancient Maori navigator Ui-Te- Rangiora's, from the freezing arctic through the rough Atlantic, the burning Indian and epic Pacific oceans to the sanctuary of Antarctica.
Nearly half of the music has been commissioned, or rewritten by the composers specifically for this project. Grylls says "it wasn't hard to find musicians who wanted to lend their voice to this important topic."
But the artistic voice about our neighbouring white continent, the Antarctic, was determined to be found in Aotearoa. "And we did" said Grylls, "in Warren Maxwell."
Maxwell is the driving force behind psychedelic blues quartet Little Bushman and a founding member of Trinity Roots. A musical giant in Aotearoa, Maxwell was one of the five inaugural recipients of an Arts Foundation New Generation Award in 2006, and became a perfect fit as he had spent time on the ice as an artist-in-residence in 2016. "This was a chance for Warren to express his life-changing experience into a creative project, and for us to connect his composition prowess with choral music – something he'd never done before" Grylls says. With that, Maxwell's first choral composition, Te Tai Uka a Pia (The Tides of Icy Shards), was created and has become his way of sharing his emotional response to Antarctica with the world – a place which he has decsibed as "gobsmackingly beautiful… it just left me breathless!" Maxwell was so moved by the project he ended up writing a second piece which will see its world premiere on this tour. Hind Mahaasaagar is about the Indian Ocean and incorporates Hindi verse with Tibetan throat singing – a testament to the varied musical styles Maxwell is known for.
It's clear the project has emotionally moved Grylls. "I am very honoured and proud to be conducting Taonga Moana with Voices NZ. We are lending our voices to a relevant and contemporary issue that demands our attention and action at every level. I invite and challenge audiences to be part of this journey." Grylls is joined for the first time by director Sara Brodie, whose works include Auckland Theatre Company's 'The Curious Incident of the Dog in the Nighttime' and New Zealand Opera's 'Hohēpa'. It's a topic close to Brodie's heart, and creating a narrative framework for Taonga Moana has been "an epic journey drawing on the skills of wonderful collaborators who figuratively, and in some cases, literally plumb the depths." "We have drawn on current oceanic research, religions, mythologies, and historical figures of old to craft a story across the world's oceans" she adds. "It is not intended to be a lesson, rather a musical reflection of the power we possess to protect or destroy."
Taonga Moana is an exciting event for anybody who cares about our planet, loves exquisite music and appreciates human creativity – the explorers, the seafarers, the beach dwellers, the thinkers, the environmentalists.
ENDS
PROGRAMME
DAVID HAMILTON Karakia Of The Stars
JAMES GORDON Frobisher Bay
JAAKKO MÄNTYJÄRVI The Seafarer
JEFF ENNS The Sorrow Song Of Whales
MOZART Dies Irae/Lacrimosa
WARREN MAXWELL Hind Mahaasaagar
KEN STEVEN Henkatan Jiwa
ERIKS ESENVALDS A Drop In The Ocean
MASON BATES Observer In The Magellanic Cloud
WARREN MAXWELL Te Tai Uka a Pia
ARTIST INFO
Composers include David Hamilton (New Zealand), James Gordon (Canada), Jaakko
Mäntyjärvi (Finland), Jeff Enns (Canada), Warren Maxwell (New Zealand), Ken Steven
(Indonesia), Eriks Esenvalds (Latvia) and Mason Bates (United States)
Creative Team includes Dr Karen Grylls (Music Director/Conductor), Sara Brodie
(Director/Storyboard), Briar Grace-Smith (Script Development) and Tim and Mic Gruchy
(Audio Visuals)
CONCERT INFORMATION
Running Time: 70 minutes with no interval
WHERE & WHEN
INVERCARGILL | 4 October at 7.30pm
DUNEDIN | 5 October at 7.30pm
CHRISTCHURCH | 6 October at 5.00pm
HAMILTON | 11 October at 7.30pm
NEW PLYMOUTH | 12 October at 7.30pm
PALMERSTON NORTH | 13 October at 5.00pm
NAPIER* | 18 October at 7.30pm
NELSON* | 19 October at 7.30pm
GISBORNE* | 20 October at 7.00pm – tickets here
Tickets from chambermusic.co.nz/taongamoana or voicesfortheoceans.nz
* Features as part of the Nelson, Hawke's Bay and Te Tairawhiti Arts Festivals.
Photo by Aja Lethaby