NEWS
VOICES NZ joins UK's The King's Singers for NZ tour
Wednesday 1 November 2017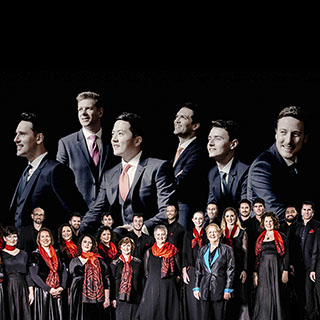 The best choral voices in New Zealand and one of Britain's greatest musical exports unite for two concerts
With "voices of spun gold" (BBC Music Magazine), The King's Singers are masters of vocal harmony. These polished entertainers will sing a mix of ancient and contemporary, classical and popular, all delivered with "pinpoint precision and total rapport" (The Times, UK).
In a rare visit to New Zealand, this irresistibly charismatic ensemble performs at the New Zealand Festival in Wellington and the Auckland Arts Festival on their whistle-stop "Gold" world tour to celebrate 50 years in the business. Double Grammy Award–winners, The King's Singers are beloved the world over, from London's Royal Albert Hall to New York's Carnegie Hall, and now New Zealand!
They will be joined on stage by our country's internationally renowned choir Voices New Zealand – who will themselves be celebrating the 20th anniversary of their founding at the 1998 New Zealand Festival. This celebratory programme will feature especially commissioned anniversary pieces by contemporary composers Nico Muhly, Bob Chilcott and New Zealand's Leonie Holmes.
"Supreme polish and breathtaking accuracy" The Dominion Post review of Voices NZ